Manufacturing & Packaging
Guar gum powder must be of the highest microbiological purity and it must also be uniform in its physical and chemical characteristics from manufacturing to delivery. For this reason, the maintenance of consistent high quality production is of paramount importance for us. Our user clients are assured that irrespective of the raw material used and the process employed, the product is guaranteed to have been tested and approved at all stages of manufacturing.
Our manufacturing units undergo routine stringent audits from regulatory agencies for compliance with current Good Manufacturing Practices (cGMP). Our facilities have been inspected by regulatory agencies like FSSAI, US FDA, ISO, FSSC , ECOCERT SA.
Along with high class manufacturing, our packaging is also scientifically designed so to protect the product, not only from transit and physical damage, but also from microbial and chemical deterioration as well as climate hazards like heat, moisture etc. Our packaging is so intact that it ensures to maximise the shelf life of the product.
We provide packaging ranging from four ply Kraft paper sacks (open mouth & valve type) with HMHDPE liner to PP woven UV stabilised jumbo bags for bulk packaging and then these are transported through containers to the ports of shipment.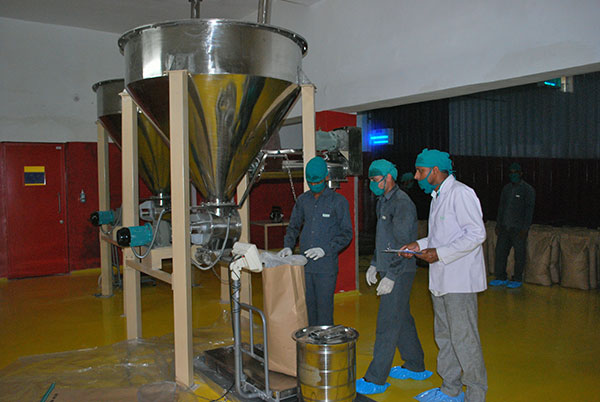 We have attained sustainable manufacturing excellence and our ideal user friendly packaging thus earns complete customer satisfaction for us.